"We should start teaching our children business skills in schools. Why? Because, from business skills come life skills." …
Why Teaching Business Skills in Schools Should Be Priority
Prepare Students For The Real World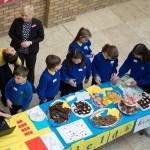 Reading, Writing and Arithmetic are only a few of the skills our children need to learn. There should be more programs designed to encourage our children to step out of their comfort zone. Too often, we hear of children being pushed through the system and then let out into the world to fend for themselves.
Isn't it our responsibility as parents and teachers to provide the very best education for our kids. To give them every opportunity to discover who they are and understand where they are going in life. By teaching our youth basic business skills, they will also be learning very important life skills.
In this article written by Richard Branson from Virgin.com, he talks about a program his team developed to help children to be entrepreneurial and make a profit. Richard also talks about the importance of why business skills should be taught in schools.
Kids and teenagers have so much drive and spirit, so schools should implement curriculums, and sign up to small business competitions like the Fiver Challenge, to truly encourage young people to rise to their full potential.
Read More At: http://www.virgin.com/richard-branson/why-business-skills-should-be-taught-in-school
Create After School Activities
As a business owner, connect with schools in your area and help develop after school activities that will encourage our youth to rise to their full potential. It is our responsibility to educate the next generation to ensure they are ready to be productive citizens of our society.