" Every opportunity that you get to speak with your client is an opportunity to make them trust your company more." …
Using "Point of Contact" To Build Relationships with Prospects
The Moment of Initial Contact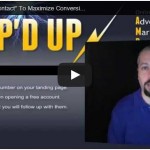 I have noticed within the internet marketing industry there is a lack of personal contact by the internet marketer. People are led to believe they only need to create a lead capture page and allow an auto-responder to communicate with their prospects. Times are changing; to create long lasting customers, marketers must take advantage of personally contacting their prospects.
By utilizing the "Point of Contact", you will start to build trust and a personal relationship with your prospects, giving them a sense of importance. Whether your prospects fill out a capture page, leaves a comment on your blog or mentions you on social media, by reaching out to them you will have a greater chance of turning that prospect into a long lasting customer.
I came across this great article by Jaye Pause from Multiplestreammktg.com. In it you'll find a great source of information about ways to utilize point of contact to maximize conversions and how to gain referrals from your prospects.
http://www.multiplestreammktg.com
Fact is, the more "point of contact" opportunities that you create in your online business, the more chances are that you will sell over and over to that particular client.
Read More At: http://www.multiplestreammktg.com/blog/utilize-point-of-contact-to-maximize-conversions/
Business Growth Regardless of Economy
No matter what economic situation we may be facing, by reaching out to your prospects will cause your business to thrive in any economy. Offering a prospect that one on one service, they will get to like, know and trust you and will be back because of the personal connection you made with them.