Janet Legere Recommends List Laser
It's not often I am absolutely WOWED by a system.  That's not to say there are really great systems out there, there are.  However, once in a while something comes across my desk that's different and that's what happened with List Laser.
We all know how important it is to build your list – it's all I talk about and it's the focus of my training.
A couple weeks back, I was approached by one of my online partners, Darren Olander.  You all know Darren right?  He's the king of list building programs like AdCheiver and Darren asked if I'd be interested in being a judge for the 30 day list building challenge being held at List Laser.
List Laser is a very unique program created by Sterling Valentine and I have NO idea how I hadn't heard of it before.
List Laser is a Powerful List Builder
I would have to say that it's likely one of the most powerful programs available for NEW members and seasoned members alike.
Why?
Well … as you know, my focus is teaching you to brand yourself and build your list through your own personal blog.  For someone new to Internet Marketing, this can be a challenge.  Blogging is the way to build long term and NOW there is an option to get started with your own Splash/Squeeze pages that promote products other people WANT!
Use List Laser Squeeze Pages For Free
First of all, List Laser is a free service.  That's right … even as a free member, you can setup unique 'splash' or 'squeeze' pages to sell quality products YOU didn't have to create!  It is brilliant!
Even for a newbie with no experience, you can have a monetized splash page up and ready in as little as 30 minutes.
Here is a snapshot of the Squeeze page area where you can create your own, proven squeeze page.  (These pages have all been proven to draw subscribers).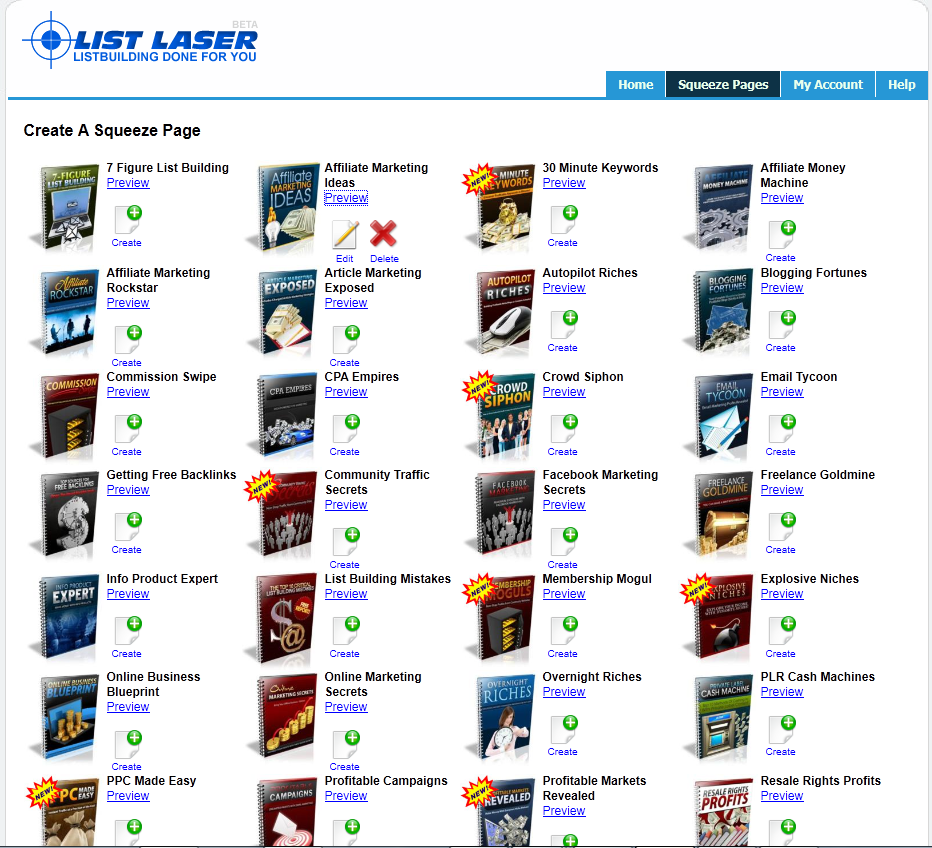 Notice the X beside the Affiliate Marketing product.  This means I have already created a Squeeze page for this product.
First, here is the squeeze page as a free member (not branded)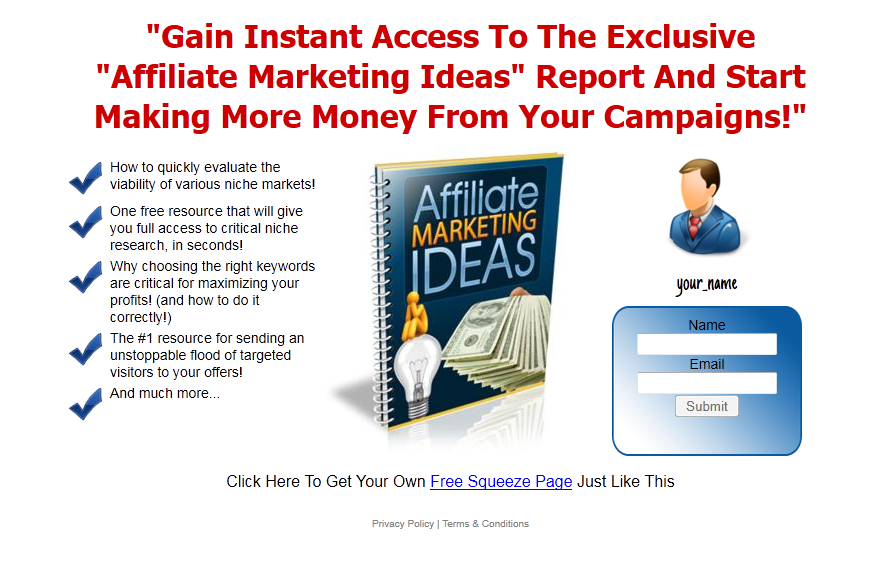 Notice there is no picture of you, it's simply a generic avatar or icon.  And even with just the Icon and your_name listed on this page, I can promise you that you will get subscribers.  The system works even as a free member.  However, I can also promise you that when you upgrade to Pro and open up the ability to add your picture and name to the mix, your subscriber rate will go through the roof!
OK, let's take a look at a PRO Squeeze page … do you see how much more appealing this is: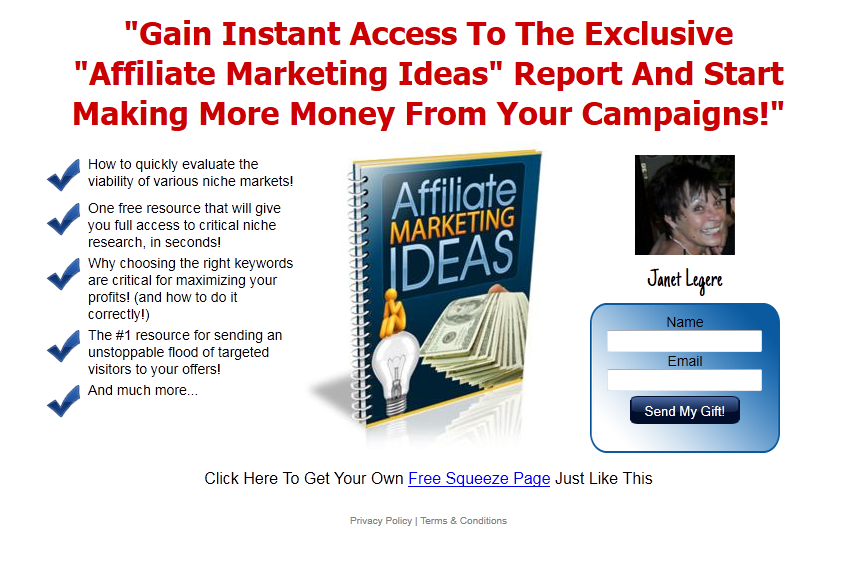 List Laser Squeeze Pages Make Traffic Exchanges Profitable
Now, imagine using these pages on the traffic exchanges that we teach you to use?  Imagine how much your list can grow!   One thing we all agree on is that Traffic Exchanges work best with effective squeeze pages or splash pages.  The pages created for you at List Laser have already proven to be effective, all you need to do is set one up and add it to all your Traffic Exchanges and see what happens.
Things are not yet perfect …
The only drawback that I can see at this time is that you must use Aweber auto-responder and there is no downline builder (yet).  This means that there is no way to signup with your sponsor in the recommended programs.
Maintaining Downline Integrity
Before joining any of the programs inside List Laser, be sure to contact your sponsor or simply use the tools and resources you already have to promote your new Squeeze pages.
Listen, even with those two small 'drawback's, I'd recommend this program in a heart beat.  If I didn't already have an Aweber account I would not hesitate to get one.  The fact is, I build lists on multiple auto-responders and Aweber is very highly ranked as far as stand alone auto-responders go.  The nice thing is that you can try Aweber for one full month for a dollar ($1.00).  If you use the List Laser system and create your pre-made squeeze pages, you will not only build a solid new list, you'll be making some money from the One time offers provided with EVERY squeeze page!
See List Laser In Action
Here is ONE squeeze page that I created and am actively testing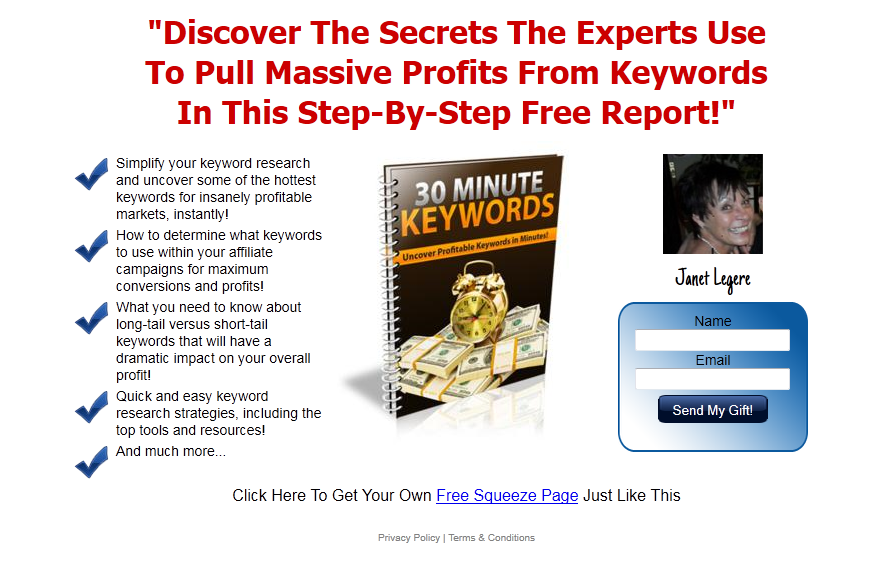 Go ahead and click through or CLICK HERE to see a live squeeze page in action.  It literally took me less than 20 minutes to create this page, complete with Auto-Responder setup, which is what took the most time.   There are complete training videos on how to setup your own Squeeze page and when you upgrade to PRO you will be able to get YOUR brand out there.
List Laser has my attention … and I'm excited to hear what you think of this great system.  Signup for your Free List Laser account today and join the List Laser 30 Day Challenge!  I look forward to reading your comments and seeing YOUR Squeeze pages in action.
Come back and share your List Laser squeeze pages ok?