Contact List Builder Helps You Build Your Personal Brand
Here we are into September … traditionally THE busiest time of year for any business and this September is on track to the one of the busiest ever.
Real Solutions for Real People
People are looking for real solutions to their online needs and are now realizing that GVO can be a great place to start when it comes to creating your Personal Brand and building your subscriber list. Two important steps we teach at Contact List Builder (CLB).
The CLB 5 Step Success Blueprint
There are really only 5 things you need to do to create success online and they are what I call my CLB 5 Step Success Blueprint.
The five steps are:
Creating Goals With the Right Mindset
Creating a Focused Plan of Action
Creating Your Personal Brand
Building Your SubscriberList
Building Strong Relationships
You can learn more about the CLB 5 Step Success Blueprint at http://www.contactlistbuilder.com
GVO – Global Virtual Opportunities
Steps 3 and 4 require some basic resources such as domain hosting with Word Press capability, Video hosting and professional auto-responder.  GVO, Global Virtual Opportunties offers you two solutions to access everything you need to begin building your list and creating your brand.
For as little as $9.97 a month you can have all these services!
And it gets even better because you can earn an additional income stream by referring others to GVO.  In fact, you can make quite a bit of money with GVO …. just check out this photo of the Current Leader Board qualifying for a BONUS of $500 a month!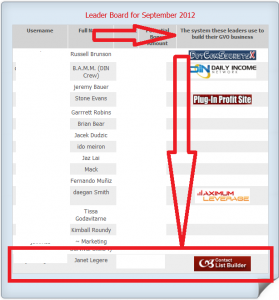 9 Months on the Leader Board!  Notice the CLB Banner there listed proudly!
Whether you choose the $9.97 version called Host Then Profit or the full fledge GVO Titanium at $44.95 which includes unlimited hosting, you will have everything in one place ready to get you started on the road to your 5 Step Success Blueprint.
Pick one by clicking the banner below:
GVO Host Then Profit
GVO – Global Virtual Opportunities Reseller Hosting
Once you register, Skype me at janetlegere and let's talk about getting started ok?
GVO pays me every month … and all I do is use and recommend the service through our Contact List Builder program.  Add GVO to your income stream with tools you need anyway!
I look forward to helping you setup your domain and start building your list.
You will love it!
Have a great day,
Janet Legere
Skype me at janetlegere