Enhancements to Second Income Coach
Enhancements to Second Income Coach
Janet Legere Introduces SIC Enhancements
It's an exciting beginning to April with the announcement of some exciting enhancements to the SIC System.
Second Income Coach Downline Builder
All members (free or gold) will have the ability to update all affiliate links with-in the SIC system. Up until now, only Gold members had the ability to edit the affiliate IDs of the downline programs within SIC. Opening these feature to Free members now creates a truly funded system for all members.
Gold Members Rotate on New Website
Brand new main SIC page is created with a great call to action for joining us.  http://www.secondincomecoach.com All prospects who join through the main SIC page will be given to Gold members using a rotating system. You will also be able to log in to your members area from the main page, thus giving it higher rankings in the internet world, which in turn will generate more prospects for all gold members. Have to keep some incentives for upgrading to Gold.
Traffic Wave Auto-Responder added to SIC
TrafficWave will become another choice for integration as an auto-responder within SIC. This feature is open only to Gold members. As a Gold member, you can now integrate auto-responders with all capture pages at SIC. This allows for personal list building.
Special Sokule Credits Bonus for SIC Gold Members
Sokule is also giving away half a million Sokens to all existing Gold and new Gold members in the month of April. Just follow the instructions


Gold Members – 500,000 Sokens – value $635.00
Use sokens (credits) to get more followers.   Then go Silver and email all your followers every 3 days.  No other social media site allows you to do that.  It's Sokule!
How to Collect Your Bonus
Send an email to Jane and include your full name, your SIC payment receipt, and your Sokule username, then click on the link below.
Please allow 24-48 hours for your bonus sokens to be added to your account.
Not a member of Sokule yet?  Signup Here if you are one of my personal contacts, or Login to Second Income Coach and signup under YOUR SIC sponsor.
How Sokens Work
Login to your Sokule account and click on the sokens icon.

Go to earn Sokens and click the track button to start tracking people. This will help you earn sokens fast.

Then go to offer sokens and make an offer. Enter the number of sokens you will give to each person who tracks or follows you. It is a kule way to entice people to follow you and get loads of trackers fast.
Weekly SIC Training Calls
We have made the decision to hold one meeting (SIC Power Hour) per week. This will be our weekly
training and special guest time. It will create more excitement for everyone and allow for better use of everyone`s time.  All SIC presenters will be taking turns doing their trainings during this time slot, so watch your emails for meeting agenda.  All meetings will now be at 9PM Eastern every Tuesday.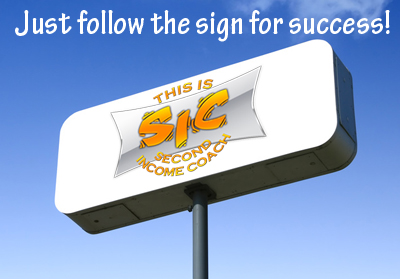 Second Income Coach Contest
Second Income Coach Spring Into Action Contest – WIN 1 of 3 prizes for sponsoring the most members for the month of April – Grand Prize is ONE Year GOLD membership at SIC!