Effective Online Advertising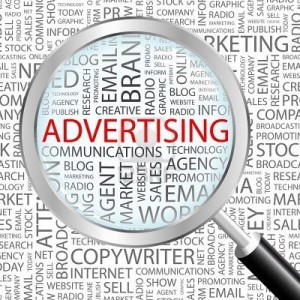 People are always looking for good reliable advertising resources to get the best results. Today I am sharing just three of my favourite advertising programs and a new traffic program that is looking very promising.
My top resource is Safe Swaps where you can purchase Solo Ads from List owners.
I recently wrote a blog post on how to use Safe Swaps as a guest user.   SAFE-SWAPS Blog Post 
Two other really good sources are Super Charged Solo ads where you are guaranteed
1000 clicks per solo and The Online Ad Network, a very unique resource.
You can join Super Charged Solos for free here and purchase individual Solos or upgrade to get more bang for your buck!
The Online AdNetwork is a unique advertising resource where you can post unlimited Text and Banner ads with your Paid membership.  Membership at The Online AdNetwork is just $19.95 a month.
Check out these recent Banner Ad stats – these are GREAT Click Throughs!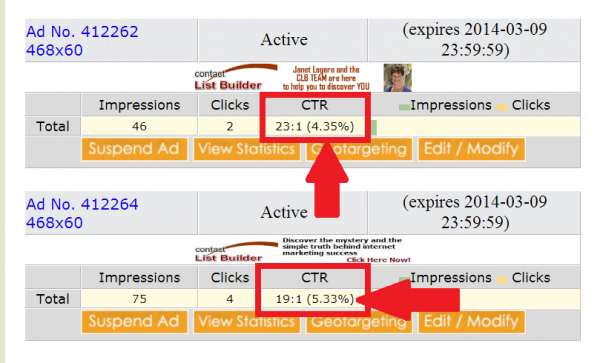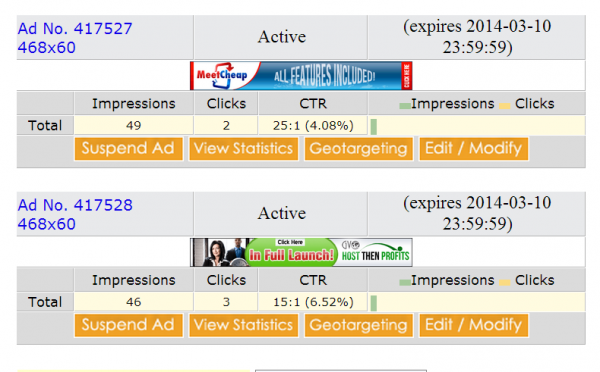 Visit The Online Ad Network and learn all about creating a lot of activity for your business.
A new resource on the market today is Twice Confirmed Traffic, a paid traffic resources that sends confirmed traffic to your site.   Twice Confirmed Traffic is not a free service and I am in the early testing phases.  In speaking with other members, they are seeing results, on average, in one to two weeks.  You can check Twice Confirmed Traffic here.

If you join and use these resources, I'd like to hear about your results.  Already a member? Same thing – I'd love to hear about your results.  Post your results in our comments section.
Have a GREAT day,
Janet Legere Skype janetlegere
Learn the Strategies of Successful Internet Marketers
At Contact List Builder, we show you HOW to use all those great tools to build your list and create your personal brand.